This week saw another Oscar nomination for diving by one some would claim as the best footballer on the pitch today, Cristiano Ronaldo.
Our latest attempt happened midweek during Real Madrids Champions League game against AC Milan at the Stadio Giuseppe Meazza.
Ignazio Abate made contact with the Real striker around the neck and shoulder with Ronaldo pausing briefly before collapsing to the ground with face in hands.
Personally I feel the after incident display of rolling around in agony because it hurts too much to stand thing was a grade A piece of acting deserving of a yellow for Abate. But obviously referee Howard Webb is a better critic than I and was quick to determine the actions of Ronaldo (of whom he observed regularly on the pitch for Manchester United while in England) deserved otherwise.
Kudos to referee Howard Webb for catching the fraudulent action of Ronaldo, and minus 5 points for not awarding a yellow to the same player for simulation.
Now some of you readers are going to point out simulation isnt applicable because the action wasnt goal deciding, meaning the infraction (of sorts) didnt take place inside the 18 yard box area I beg to differ.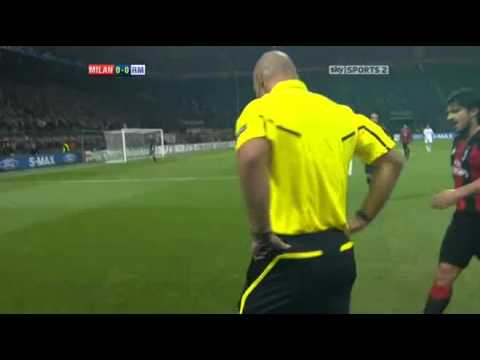 Make sure to listen to this weeks La Liga Weekly Podcast Champions League El Clásico? as the panel discuss this incident and more
Post match words
from Madrid manager Jose Mourinho, We had chances to kill the game, but when you are 2-1 down and you dont lose, you cannot be sad
To concede the second goal 30 seconds before full time was a real mess
said, Max Allegri, Milan manager.